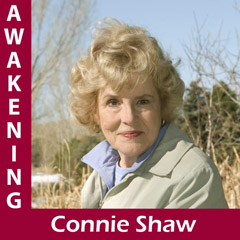 "AWAKENING: TALKS WITH COMPELLING PEOPLE"
WITH CONNIE SHAW
"Awakening" boldly investigates the steps that heroic people everywhere are taking to meet the effects of the current economic and social crisis in daily life. These dynamic role models are feeding the homeless, retrieving parents from nursing homes, growing their own food, creating community, radically forgiving, and discovering the miraculous. The Western American author Louis Lamour has said that "There will come a time when you think that everything is ending. But that will be the beginning." "Awakening" is about that planetary beginning.
CHECK OUT OTHER "AWAKENING" TOPICS
Selfless Service: Feeding the Needy (here)
Mother Mary: Shelter in Times of Crisis (here)
Spiritually Speaking (here)
Eldercare (in-home parent care) (here)
---
Copyright 2009, Connie B. Shaw Length: 31:48
Get help on listening here.